September offer in Bungalow in Castiglione della Pescaia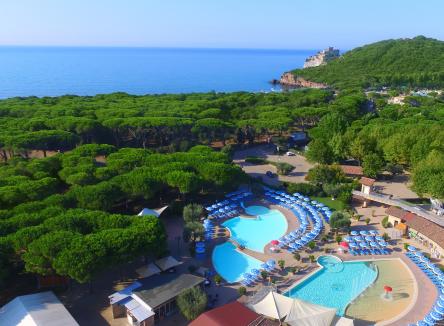 Valid for stays from 31/08/2019 to 18/10/2019
September is the month to leave for holidays. The temperature is mild, sea water is still warm and beaches aren't crowded. To enjoy this period to the fullest, Camping Village Baia Azzurra offers you, your family and friends an unmissable deal for a 7-night stay in a bungalow.
Accommodations are equipped with sat tv and air conditioning/heating system, double bedroom, furnished kitchenette, bathroom with shower, basin and toilette, furnished covered veranda with table and chairs and private yard.
The camping village is also provided with swimming pools suited for adults and children featuring Jacuzzi and water games, a children's playground and a large equipped beach hallmarked by a sandy shoreline and pristine waters which will guarantee a holiday plunged into the uncontaminated nature of the Tuscan Maremma. New 2019 Outdoor Fitnes + electric station recharge vehicle

SEPTEMBER OFFER
Visit our web site and discover our special offer from 31.08 to 19.10 offer starting from € 250 per week!
Camping Village Baia Azzurra Club
Map
Back to the map
Aerial view
Other offers from this facility