September at Camping Ca?Savio 7=6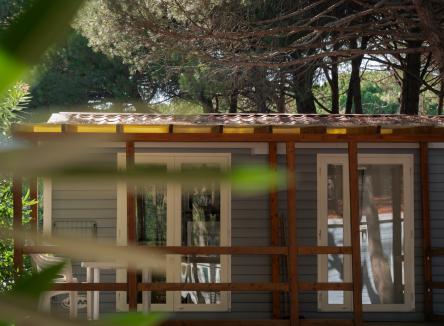 Valid for stays from 10/09/2022 to 17/09/2022
In the period 10 September - 17 September you can stay 7 nights for the price of 6 (7 = 6) in a Riviera mobile home.
To get the offer it is necessary to book by August 31st.
The offer is not repeatable and cannot be combined with any other discounts or promotions and must be requested at the time of booking.
The offer is subject to availability and can be changed or withdrawn at any time.

Fill out the form to receive a free and personalized quote.
Map
Back to the map
Aerial view
Virtual tour
Other offers from this facility
RECEPTION AND CHECK-IN / CHECK-OUT PROCEDURES
Spacing

We have taken pre cautionary steps to ensure adequate distances between guests inside the Reception, frequent exchange of natural air and avoid queues and gatherings. We advise 1 family member only to enter the reception to perform the check in and the check out.
BEACH
Spacing

Following the guidelines provided to us, we are able to open our free beach. Our beach is free and as always available for our guests. The fact that we don?t use pre placed umbrellas and sun beds allows a free allocation of families. We kindly ask you to respect the social distance, to supervise and look after your children and act responsibly avoiding crowds on the shoreline or along the way to access the beach.
POOL
Spacing

We are able to open our swimming pools as well as the solarium, where we offer you a limited number of properly distanced sun loungers.

Disinfection

We will offer the possibility of sanitization of the loungers before and after every use, and will implement a complete cleaning service at the end of every day. The sanitization checks of the water and chlorine level will be done every 2 hrs, as we have always done.
ANIMATION
Spacing

We are happy to inform you, that during the complete duration of the season we are offering our animation services. Our staff have worked hard to create safe and fun possibilities for your little ones. Taking in consideration all guidelines provided to us, we are glad to be able to ensure you that our evening live shows will be performed with a dedicated number of seats.

Spaces used

The animation activities are outdoor. Evening entertainment and live shows will be performed outdoor, keeping the distance within people and only with a dedicated number of seats.
INTERIOR RESTAURANTS / BARS
Access restrictions

Taking in considerations the guidelines provided to us, we are able to open our restaurant and restaurant garden. We offer enlarged spaces between tables and we have created large walkways. We kindly ask you to leave camping pass information to the waiter who will accompany you to your table. Hygiene products are available for customers and staff in several points of the restaurants, especially at the entrance and near the toilets. Reservations are recommended and not mandatory, but we always welcome walk-in guests.
TOILET
Disinfection

Dispensers with hydro-alcoholic solutions for hands hygiene have been positioned at the entrance and in several strategic points and toilet facilities can be used keeping the minimum distances of one meter among people. The general sanitization of sanitary fixtures carried out by specialized personnel using specific detergents and procedures, together with the natural circulation of air, guarantees the safety of users.
MARKET AND PUBLIC SERVICES
Access restrictions

Thanks to the large size of our supermarket we do not have a reduced service, therefore we are able to offer you as usual fresh bread, fruit and vegetables, gastronomy and take away food, however guests are mandatory to wear a facemask and gloves when entering. Indications inside or outside the supermarket will help assist you comfortably.