RETURN YOUR FREEDOM!
THIS YEAR CHOOSE AN OPEN-AIR HOLIDAY IN MOBILE-HOME, IMMERSED IN NATURE, IN TOTAL SAFETY!

COMPLETE AUTONOMY: The stay in the Mobile-Home allows you to enjoy total autonomy . Comfortable solutions designed for all lovers of nature and relaxation. Our Reception is always open , 24h / 24h, offering maximum freedom for entry and exit from the structure.
TOTAL SAFETY: The camping holiday , in contact with nature and in the open air , allows a high standard of safety. All our accommodations are sanitized in compliance with the ANTI-COVID 19 regulations.

HIGH COMFORT: Camping Fusina Venezia offers numerous types of accommodation, all with private bathroom , air conditioning and independent heating , wi-fi . Some types also have a kitchen , an outdoor veranda with a panoramic view of Venice !
Furthermore, Camping Fusina Venezia offers its guests the exclusive possibility of reaching the historic center of Venice aboard panoramic motorboats, crossing the Venice lagoon.

SPECIAL OFFERS SPRING 2021: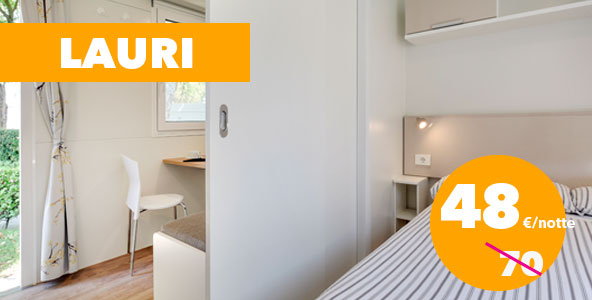 Mobile home: LAURI - 2/3 PAX
48 € / night instead 70 € / night
one bedroom (1 double bed)
living room with sofa bed
kitchenette (fridge, induction hob and sink)
bathroom with shower
air conditioning / heating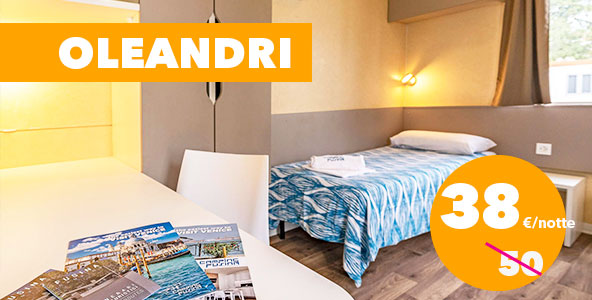 Mobile home: OLEANDRI - 2 PAX
38 € / night instead 50 € / night
one bedroom (2 single beds)
bathroom with shower
air conditioning / heating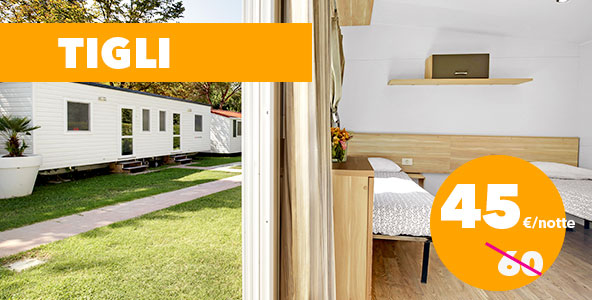 Mobile home: TIGLI - 3 PAX
45 € / night instead 60 € / night
one bedroom (3 single beds)
bathroom with shower
air conditioning / heating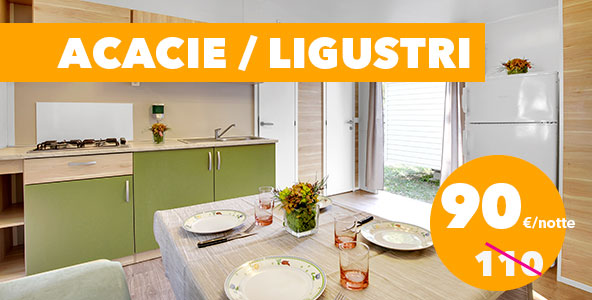 Mobile home: ACACIE / LIGUSTRI - 6 PAX
90 € / night instead 110 € / night
one bedroom (1 double bed)
two bedrooms (2 single beds)
living room
fully equipped kitchen (fridge, hob and sink)
bathroom with shower
air conditioning / heating
DISCOVER THE OTHER TYPES OF ACCOMMODATION AVAILABLE: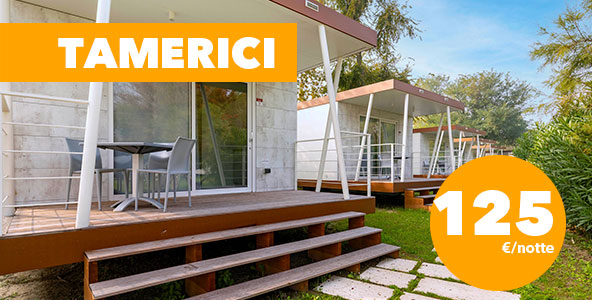 Mobile home: TAMERICI DESIGN LODGE - 4/5 PAX
125 € / night
one bedroom (1 double bed)
one bedroom (2 single beds)
living room with sofa bed
equipped kitchen (fridge, induction hob and sink)
bathroom with shower
air conditioning / heating
outdoor veranda with panoramic view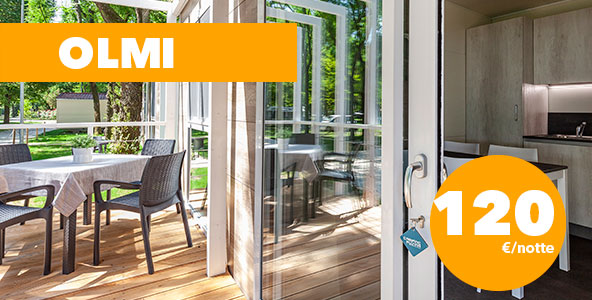 Mobile home: OLMI - 4 PAX
120 € / night
one bedroom (1 double bed)
one bedroom (2 single beds)
equipped kitchen (fridge, induction hob and sink)
living room with sofa
TVsat
bathroom with hydromassage shower
outdoor veranda with panoramic view
air conditioning / heating